Regular price
Sale price
$23.00 USD
Unit price
per
Sale
Sold out
Supported payments: PayPal and Credit card .
Show your funkopop in the special way. Glowing At Night!!! 
Wall-mounted to save space. Nail-free installation. 
5 Pack Clear Acrylic Organizers Shelves for Funko Pop Figures, Invisible Riser Display Shelf for Wall Storage Decor, Floating Display Ledge for Figures Stand Collection.
LOOK COOL AND ATTRACTIVE: Clear Acrylic Stand insert into the Z-shape base which is inlaid with fluorescent material. Your dear friends funko pop will be shining when night is coming.

STRONG MATERIAL: Our Clear Acrylic Organizers using highly purified and high thickness acrylic sheets and premium plastic material. The proportional fluorescent material maximizes the brightness.

EASY TO INSTALL: Insert the acrylic shelf into the base, then tear off the glues and stick it on the wall horizontally. One set of 5. You can assemble them as you like.

WHAT YOU GET:5 PCS Clear Acrylic Display Riser Shelves

CUSTOMER SATISFACTION GUARANTEED: We will replace a new one or refund your money if you are not satisfied with the product, damaged in shipping. Please Contact with us when you have any question, we will give you a satisfied solution!
CHECKOUT SECURELY WITH:
Paypal

Shopify
View full details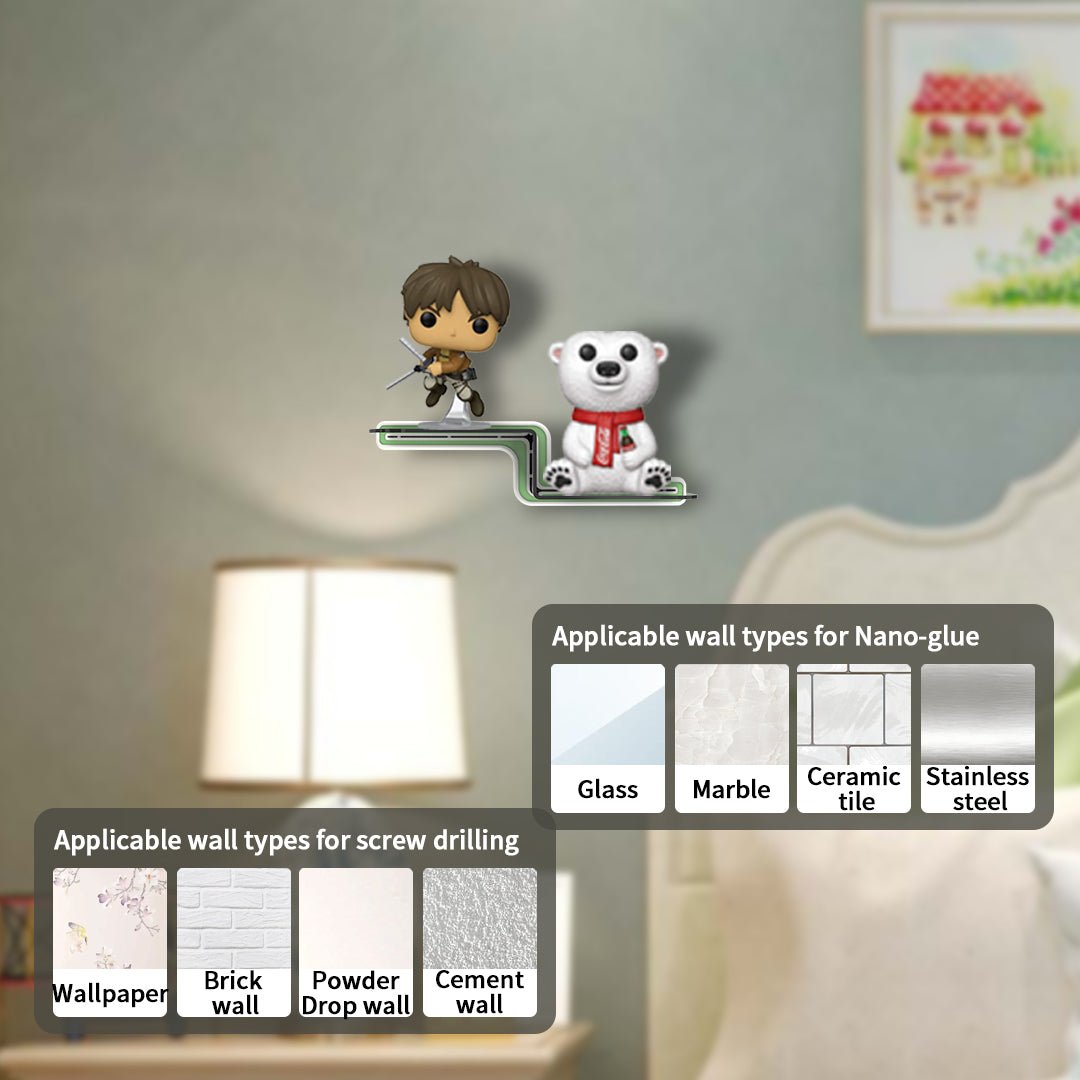 Anyone can mount these.
I ordered this for my daughter to put her Funko Pops on and expected I would be spending a little time helping her mount these in her room. I didn't catch in the directions that they are adhesive mounted. She needed no help and had most of them mounted before I ever got home. They glow nicely in the dark and I bet to get that kind of "glow" pictured you would need a black light. Overall very nice and she will probably want to order more...she has LOTS of them!
Simple, sturdy and awesome
My daughter has recently discovered funko pops and wants to collect them. I've been trying to find cute shelves or some way to display them and was super happy to see these shelves made specifically for funkos. You get 5 shelves, each one holds 2 funkos and they must be taken out of the box to fit. The stick to the wall very well. I made a mistake and wanted to readjust a shelf and it was stuck on good so I have no worries about these falling. They also come with a little sticky circle to hold the funko on the shelf. Included was also 2 extra strips for hanging a shelf and 6 extra sticky dots. These look nice hanging on the wall and are sturdy. The added glow in the dark effect is super cool. I'll definitely be getting more of these as my daughter's collection grows.
Solid
These display shelves are great for smaller action figures. I know they're labeled for the smaller pop figures but they work well with most. They're installed pretty easily and look cool.
Very cool
Very cool shelves for displaying toys. Wish they were just a hair so boxed figures would fit better. Glow in the dark world well under a blacklight.
Great little shelves to show off any small figures
I got these for my kids because I thought they needed more places to put their Funko Pop figures but turns out they already had them in good places in their room so I found that they actually no needed these to show off some of their smaller figures. I love the look of these with just the acrylic and the glow in the dark lines in the insert that attaches to the wall. They already have adhesive on the back, you just snap the two pieces together and stick them where you want them. I have only put up 2 so far but they look really great! The glow is pretty subtle, would probably be brighter if I actually shined some bright light directly on them for a bit but I was just too excited to put them up. These are great for collections you want to show off. They also come with adhesive clear dots which is so great because a couple of the figures, I couldn't find their stand or they wouldn't stand in their own. Very cool little shelves!