Regular price
Sale price
$24.00 USD
Unit price
per
Sale
Sold out
Supported payments: PayPal and Credit card .
Show your funkopop in the special way. Glowing At Night!!! 
Wall-mounted to save space. Nail-free installation. 
14 PCS,Wall Display Shelf for Funko POP Figures, Floating Shelves Display Ledge for Organizer and Decoration, Collectibles Display Stands Showcase.
【Perfect Design and Special Visual Experience】The unique design, hexagonal structure inlaid with fluorescent material, makes it glow at night helping to create an eye catching feature for your cherished POP Figures.
【STRONG DURABLE CONSTRUCTION】Made of premium plastic material. Combination structure between hexagons make them more stable and firmly.
【Easy DIY Installation】Black and white can be matched with many different floating display shelves. You can assemble it according to your preferences.
【EASY FOR ASSEMBLY】Unlike other display riser stands on the market, our product is no need for screwdriver. After the combination is completed, tear off the 3M glue and stick it on the wall horizontally.
【WHAT YOU GET】

14 PCS Display Risers Shelves. (7 Blue & 7 Red)
CHECKOUT SECURELY WITH:
Paypal

Shopify
View full details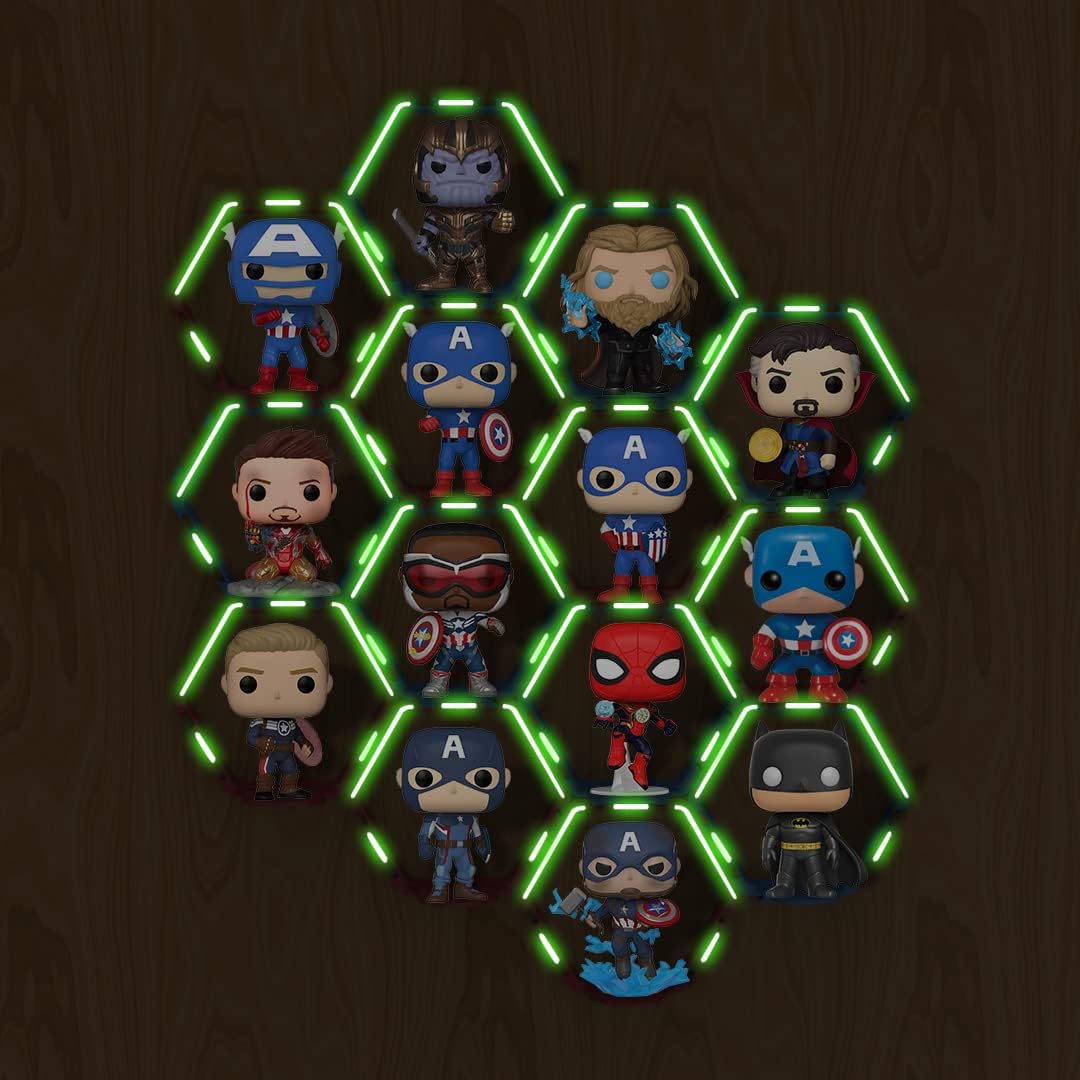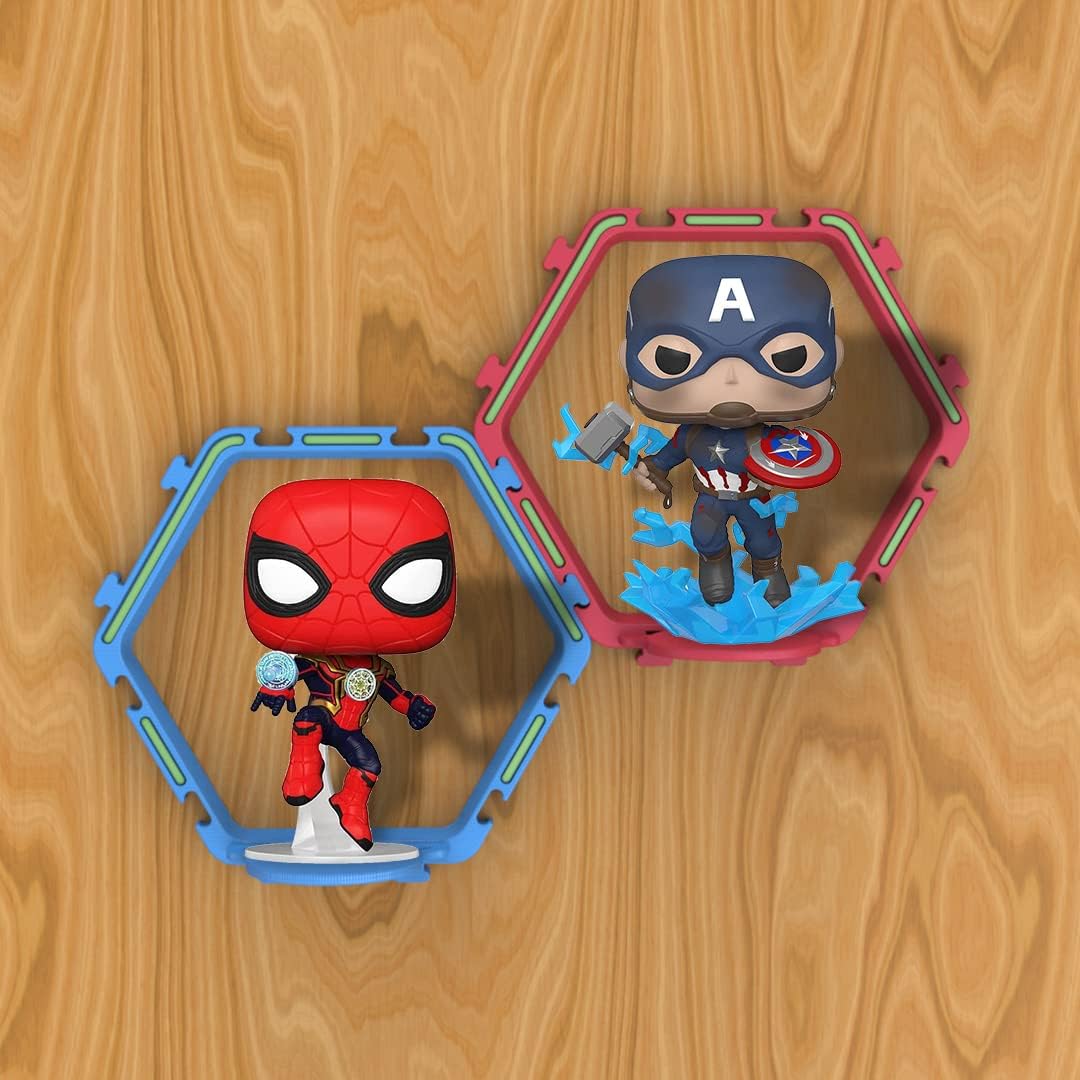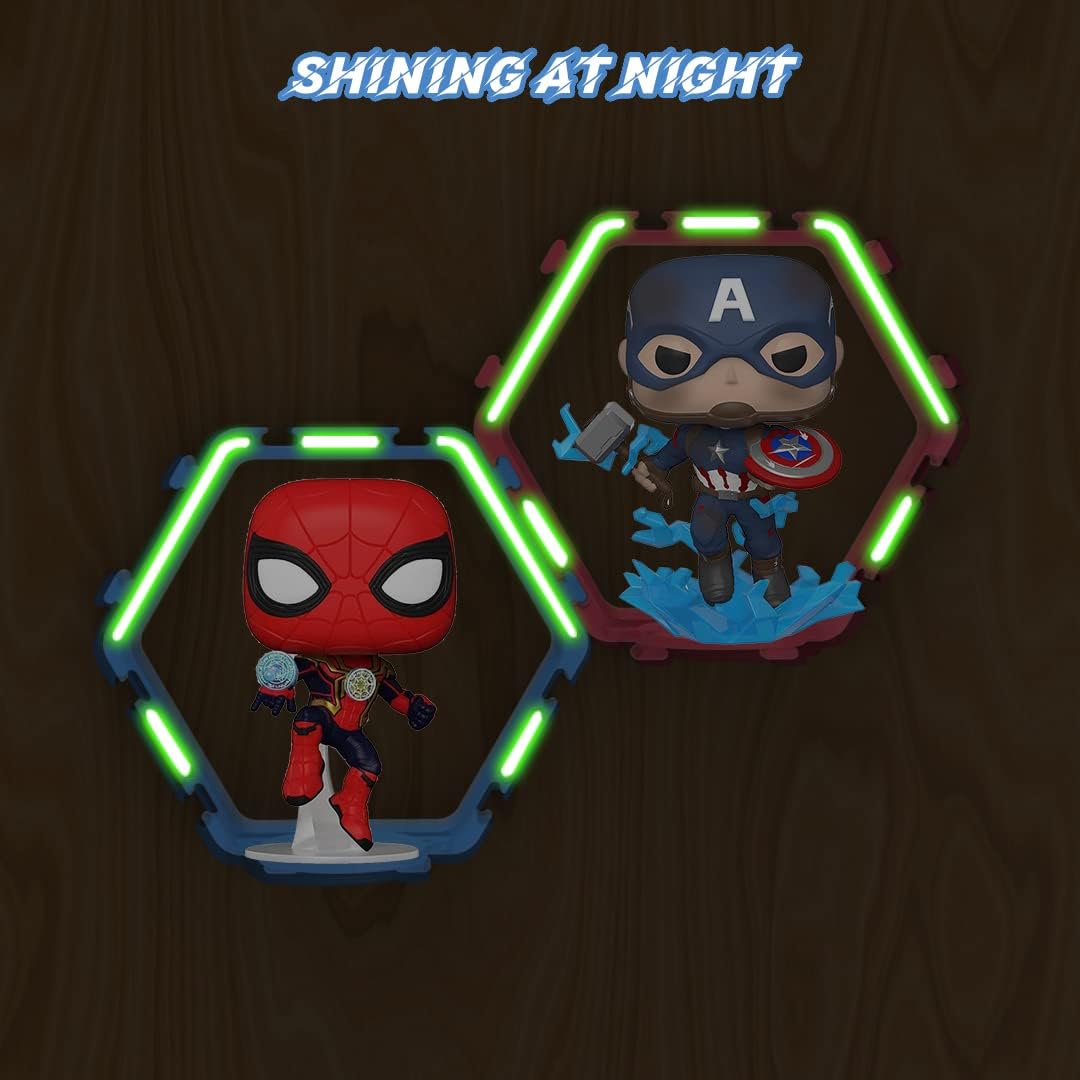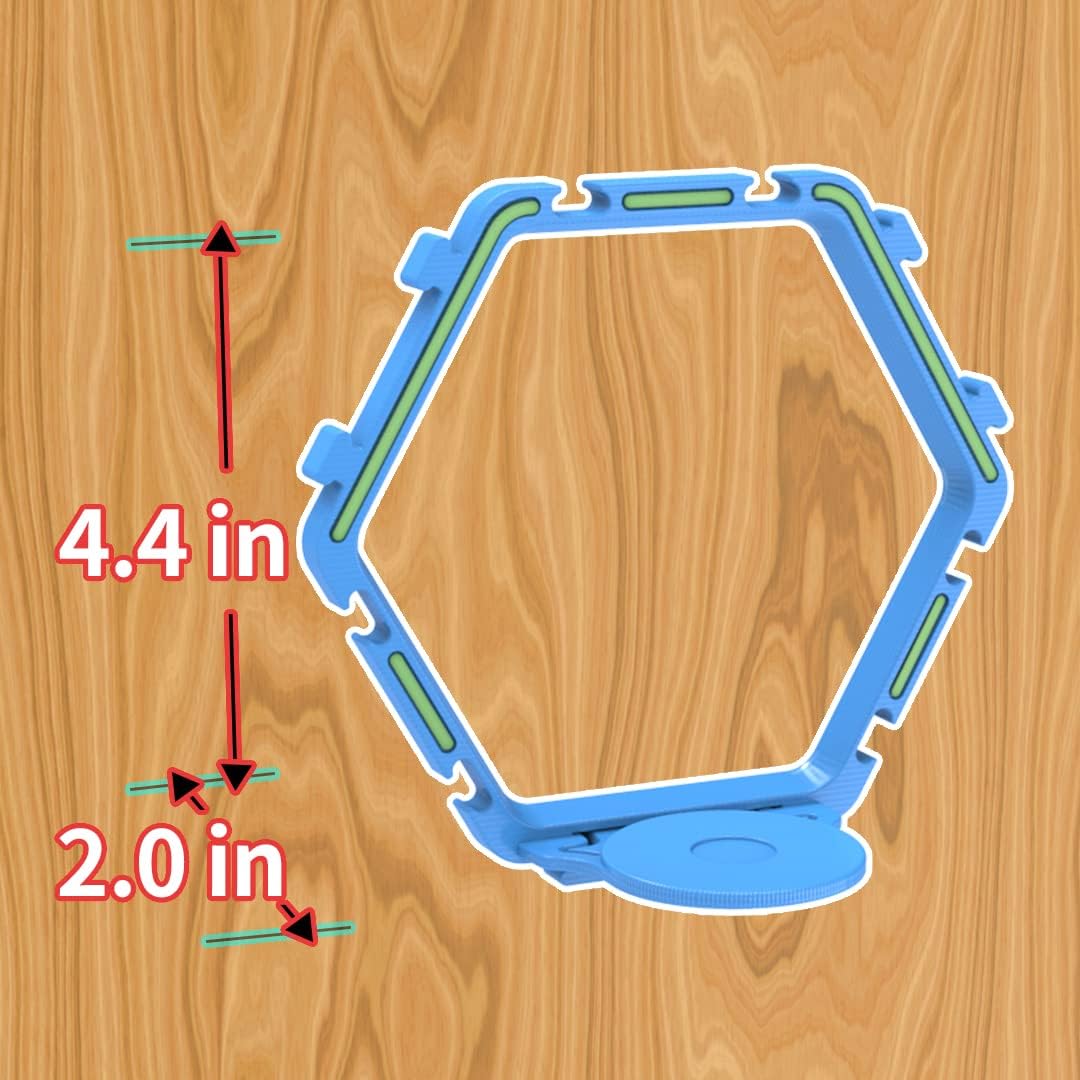 Fun display shelves for these figures
The running gag in our house is that we don't collect these, but we sure do seem to have a lot of them. This shelf was a fun and creative way to display some of our favorites. These are not big enough to fit boxed figures, so be aware of that ahead of time. This came with all the stuff you need to mount them if you want to use tape and give a 'floating' appearance - I used a few small nails for hanging pictures, and you can't tell the difference, honestly. We have a couple figures that are 'standard size' but a little taller than others, so we had to be intentional about where we put them, but the honeycomb design is completely interchangeable so you can rearrange the spots, or the figures to best suit your needs. We are super happy with these shelves.
Much assembly required, but looks nice
It was a bit tedious putting all of the strips of adhesive on, but I suppose it was worth it as it's stayed on my wall ever since installation and the addition of many figures onto it. The glow in the dark thing isn't very bright, but I'm actually happy it's not very distracting when I'm trying to sleep.
Super easy to put together for a nice trendy shelf
I'm not much into funkos but I'm super into hexagons! I was so hyped to get this set up, very quick and easy, lightweight and sturdy at the same time. Make sure you mount it properly. I put all my random 3 inch vinyls on here, kidrobot and whatnot from the better era where everything isn't from a licensed franchise. Really cool but you'll need a couple sets if you have a lot!
Nice way to display figures
This is a fun way to display POPs or other figures on your wall without having to use a shelf. It was easy to assemble and come up with a design, but once you decide on your design you pretty much have to use the included sticky strips on the back to hold the hexagonal parts together, otherwise they are too loose and can come apart. But once the sticky strips are added, the whole thing is pretty strong. While I did use the sticky strips to attach to the wall, I also had two nails that I hung the assembled "shelf" to before sticking it on the wall, just in case (I don't really trust just sticking things to the wall).
Each hexagon has a shelf that slides in, and there is a spot on the shelf for a small circular sticky pad which is supposed to hold the figure to the shelf. While it does work, one of my POPs fell off the shelf while stuck to the pad - the POP had a very small base (just tiny feet to hold the whole thing up) and I ended up using another sticky pad and it's been holding fine since then.
A cool aspect of this unit is that each hexagon has glow in the dark strips which do look cool when you first turn off the lights. After a little while the glow gets dimmer and dimmer, but that seems to be how all glow in the dark items work. Those glow in the dark strips are also sticky if you touch them which isn't pleasant, but once it's up on the wall you shouldn't be interacting with it. Overall I do like how this looks - it's much more interesting of a display than putting figures on regular shelves or in bookcases.